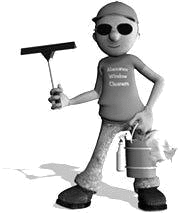 fully insured

police cleared
FOR A QUICK QUOTE
PHONE DAVID 0426 258 876
15 YEARS OF PROFESSIONAL WINDOW CLEANING
Maybe you're house has been sold, or you're vacating a rental property.
In which case you may have to have the windows professionally cleaned.
With rental properties, having the windows professionally cleaned alongside a vacate clean and carpet cleaning may be part of your rental agreement.
If you've sold your home, many times buyers will stipulate that the property be professionally cleaned before hand over.
Vacating a Property Doesn't Need to be Stressful
Moving house is a busy time, and yes it can be stressful, but there are ways to make the process easier.
Cleaning is just one of those things that has to be done, and trying to do it yourself whilst packing belongings into boxes, organising and hiring a removalist and all the other little jobs that add up to a big job, can put extra pressure on the situation.
Hiring a cleaning service is one way to make the moving process a lot easier.
How to Choose a Vacate Window Cleaning Service
There are many cleaning companies in Perth offering a range of cleaning services.
Some are domestic cleaners that also do tasks like washing up, laundry, making of beds as well as general cleaning.
Other companies specialise in vacate cleans.
Some are just carpet cleaners and others like myself, just offer window cleaning.
Some cleaning companies offer everything under the one umbrella.
The last option seems the more straight forward, as you only need to hire the one company and all your cleaning needs are taken care of.

It can be, but not always.
Reasons for Hiring a Professional Window Cleaner
My background is in cleaning, starting off doing regular domestic cleans and eventually vacate cleans.
This then led to learning how to clean windows .. properly and professionally.
I then decided to just specialise in window cleaning (vacate cleaning is hard work, let me tell you!)
There are many good and reputable cleaning companies operating in Perth, and a lot of them offer window cleaning alongside other cleaning services.
I don't want to give the impression that these companies can't clean windows to a high standard, as I'm sure many of them do.
But with my many years in the industry, I've also seen good hard working cleaners just not getting windows cleaned to a professional level.
This is no reflection on the work ethics or ability of the cleaner, it's just that they aren't trained professional window cleaners.

If having your windows cleaned to a high standard is paramount, then the safest option is to hire a professional window cleaning service.
Sure, it's one extra job you'll need to organise, but in the long run it's the peace of mind that your windows will be streak free and there will be no issues with hand over.
What Does Vacate Window Cleaning Include?
Well I can't speak for other window cleaners, but as well as cleaning exterior and interior windows, I remove all the screens and wash them as well as screen doors.
Also window tracks are cleaned and sills wiped over.
Frames are wiped down where necessary, inside and outside.
Cobwebs are removed.
If there's any old stickers I can remove them for you too.
If requested, I'll also clean any interior glass and doors as well as bathroom and wardrobe mirrors.
Don't hesitate to contact me, either by phone or the contact form above if you'd like to book my services or simply need a quote.
Happy house moving!
HomeBrite Window Cleaning
Champion Lakes 6111
Phone David 0426 258 876
homebritewindowcleaning@gmail.com