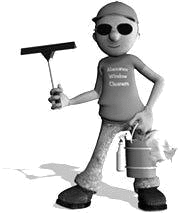 fully insured

police cleared
FOR A QUICK QUOTE
PHONE DAVID 0426 258 876
15 YEARS OF PROFESSIONAL WINDOW CLEANING
Residential Window Cleaning
The need for residential window cleaning has grown in Perth throughout the years and seems like it will continue for a while yet.
There's still a lot of new suburbs being built, and unlike the 1/4 acre blocks of old, a lot more homes are being squeezed into these new estates.
I get to see a lot of Perth in my window cleaning travels, and I am still surprised by new developments I've never seen before.
Window Styles in Residential Homes
These newer style homes can have a surprising amount of windows too.
Instead of just having the standard 2 panes with a window that slides open, many homes have 4 to 6, and sometimes even 8, panes of glass in a window set.
There's also a number of window styles.
From the standard 2 panes to colonial style and panelled glass, louvred windows, wind-out windows, Aneeta sashless windows and just plain big windows!
Window glass can also have different treatments and coatings too like e-glass and other tints.
I even have a client who has a bullet-proof application on some windows .. true.
There's also different frames and frame materials. Aluminium is still widely used as well as steel, PVC and wood.
Different Style Windows Require a Different Approach
Not all window glass is the same and certain coatings can require a bit more care when cleaning.
It's easier to remove insect poo and other stuck on grime from standard glass, but with e-glass and other tints you need to be aware of not using harsh chemicals or detergents and definitely no abrasive materials or scrapers.
Some tinted windows can be harder to clean as the squeegee can "drag", so knowing different squeegeeing ( yes, that is how it's spelt! ) techniques is a must.
Is it Worth Hiring a Professional Window Cleaner?
Well I'm obviously going to say yes!
But seriously, a home is a big investment, and windows are really expensive.
Having to replace them due to permanent hard water staining, or even having to get them acid washed is going to work out more expensive in the long run.
Some people don't mind cleaning their own windows and can do a pretty good job.
I do come across windows though where I can see someone's had a go at getting them clean .. I can see all the streaks!
Another issue for some home owners is removing the screens.
I'm constantly coming across bent and dinted up screens where somebody's had an attempt at removing them.
This just makes them harder to remove and refit and increases the likelihood of them becoming more bent .. plus it looks bad.
Homes always require maintenance, and keeping the windows clean should be looked at as part of that routine.
It's also just so much nicer in a house with streak free clean windows.
If you're looking through grubby windows at your place and would like to see them sparkling clean, please get in touch either by phone or the contact form above, and I'll be happy to help you out.
HomeBrite Window Cleaning
Champion Lakes 6111
Phone David 0426 258 876
homebritewindowcleaning@gmail.com