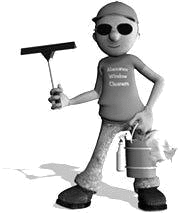 fully insured

police cleared
FOR A QUICK QUOTE
PHONE DAVID 0426 258 876
15 YEARS OF PROFESSIONAL WINDOW CLEANING
WINDOW CLEANING 2 STOREY HOMES IN PERTH
THE COST OF CLEANING 2 STOREY HOMES
Perth is a rapidly growing city, with a lot of new homes being built.
Many of these are 2 storey homes & most with a lot more windows than standard houses.
Back in the "old days" you were considered well off to live in a double storey house, where as now it isn't uncommon at all to see new suburbs with the majority of homes being 2 storey.
This of course requires a different approach to property maintenance, especially window cleaning and keeping on top of the cobwebs.
I service pretty much all of the Perth metropolitan area and can access most windows on 2 storey homes, which enables me to not only clean your windows, but keep the cobwebs at bay too.
The price of cleaning windows for your 2 storey home in Perth is less than the price of either having to have them acid washed due to hard water stains , or the amount they devalue your home due to the windows being permanently degraded due to weather, dust, insect poo and other contaminants.
ACCESSING DOUBLE STOREY WINDOWS
Some home owners throughout Perth choose to clean their own windows, but with double storey properties this isn't always practical or possible.
Not everyone is comfortable scaling up a ladder, or have a ladder that reaches high enough.
The cost of the ladder alone can buy you the services of a professional window cleaner.

Plus the safety aspects of cleaning windows off a ladder need to be taken into consideration.

A professional window cleaner has the experience to obtain a streak free clean on window glass.
It's annoying enough when you've cleaned your own windows on a single storey house, only to see the streaks and smudges from inside.
You really don't want to be going up and down a ladder trying to get your windows clean and streak free!
Here at HomeBrite Window Cleaning, I specialize in window cleaning.
My 2 storey window cleaning service covers most of Perth, so whichever area you may live, let me get those windows in your double storey home sparkling for you!
I can also clean any balcony, balustrade and pool glass too.
There are some lovely double storey homes throughout Perth.
Lots of window space and light coming in.
Very creative architects, but they don't think about the poor old window cleaner!
It can be interesting at times accessing these windows for cleaning.
With my ladders and poles it's very rare that I can't access a window.
WHY IT'S A SENSIBLE IDEA TO HIRE A PROFESSIONAL WINDOW CLEANER
HomeBrite Window Cleaning
Champion Lakes 6111
Phone David 0426 258 876
homebritewindowcleaning@gmail.com
2 Storey
Window Cleaning Perth